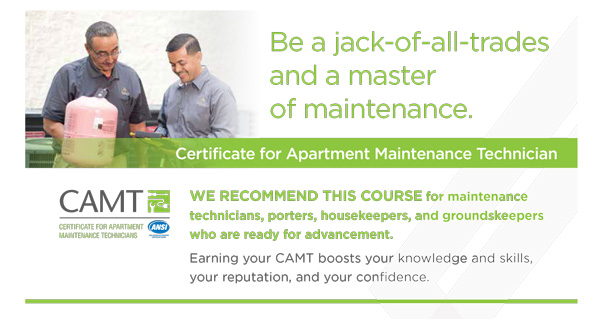 This event has been cancelled.
The Certificate for Apartment Maintenance Technician Course on October 20-23 and November, 3-6, 2020, has been cancelled. 
We will update you when this becomes available again.
By The Connecticut Apartment Association
By The Connecticut Apartment Association
By The Connecticut Apartment Association
Move for Hunger announced September 3 that it had received a $50,000 donation from the Assurant Foundation to support its COVID-19 relief efforts. The donation will help Move for Hunger provide 120,000 meals to children, families, senior citizens and vulnerable communities facing hunger during the pandemic…
By Jessica Olander, Executive Director​
The summer proved very busy with advocacy efforts at the local, state and national levels. The news is not good, with the extension of the eviction moratorium, CDC order and continued extension of the Governor's powers and Executive Orders. The CTAA website is continually updated with information and action alerts, and communications to the membership have increased substantially to keep you all in the loop…
Inside you will find additional information such as upcoming webinars, conferences, previous events, anniversaries, and more. Take a look through the flip book to see all the extras. You can also download a PDF and save it to read later.
Thank you to all the advertisers. Click the links to see the ads.​